---
advertisingHow Seasonal Artifacts WorkFirst off, the gameplay shows off the Seasonal Artifact menu in action which looks to clear up how exactly the item works. Playing the game and gaining XP will level up the Seasonal Artifact and unlock new tiers of mods. Here are all the Seasonal Artifact mods revealed so far:Second RowAnti-Barrier Rounds: This mod is usable only on Auto Rifles and Submachine Guns. While these damage effects may not only be connected to the Seasonal Artifact, this is the fir
Destiny 2: Every Seasonal Artifact Mod Revealed So Far
Cached Page below :
Company: gamerant, Activity: gamerant, Date: 2019-08-20  Authors: ramon hara, derek nichols, joshua duckworth, jesse d morgan
Keywords: news, gamerant, companies, mod, game, shadowkeep, players, far, artifact, rounds, seasonal, season, mods, revealed, perks, destiny
---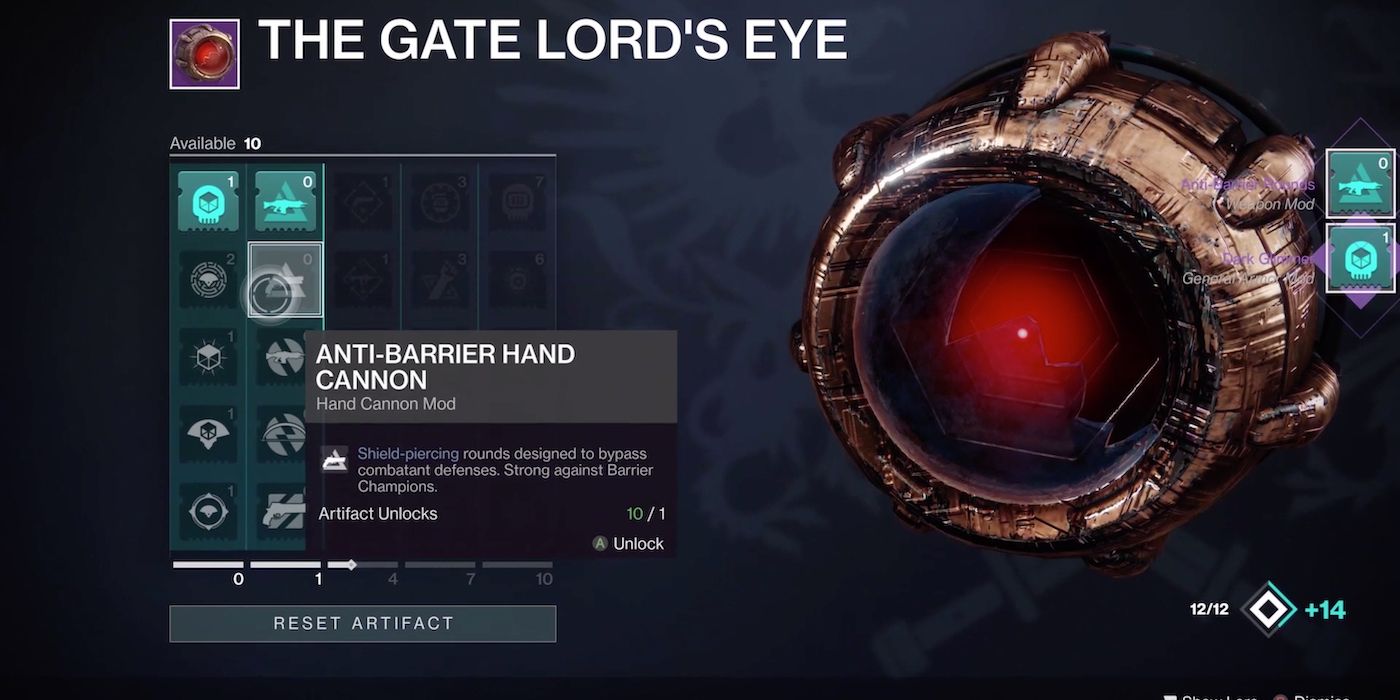 Share Tweet Email Copy Link Copied
Destiny 2: Shadowkeep and the Season of the Undying are adding a new item to the game that will affect players' power progression throughout the course of the season called Seasonal Artifacts. At Gamescom, developer Bungie showed off new gameplay from the upcoming Destiny 2 release that gives a detailed look at some of the mods and their perks that will come to the game by way of the Seasonal Artifact.
advertising
How Seasonal Artifacts Work
First off, the gameplay shows off the Seasonal Artifact menu in action which looks to clear up how exactly the item works. Playing the game and gaining XP will level up the Seasonal Artifact and unlock new tiers of mods. Whereas some players may have thought that the Seasonal Artifact itself was where the mods or perks were activated, it actually looks like players will choose from a group of mods in each row (with the ability to select multiple mods per row) based on a system of unlock points. Once a mod is chosen, that mod gets added to a player's collection to slot into a piece of armor using the new Armor 2.0 system.
advertising
RELATED: Destiny 2 Shadowkeep Trailer Revealed During Stadia Connect
This means that players will have to choose the mod they most want from the Artifact, then also choose where exactly they want to slot it into their armor compared to other perk mods in their inventory. There is also an option to reset the Artifact, which will likely be a way to reset progress in order to unlock additional mods within the Artifact by leveling it again from the beginning; however, Bungie has yet to confirm how the reset mechanic works. Leveling up the Artifact will also grant a Power bonus.
advertising
Seasonal Artifact Mods and Perks
In the new gameplay, a number of mods and their perks were shown, including the last row where some of the most powerful mods are located. Here are all the Seasonal Artifact mods revealed so far:
Second Row
Anti-Barrier Rounds: This mod is usable only on Auto Rifles and Submachine Guns. Shield-piercing rounds designed to bypass combatant defenses. Strong against Barrier Champions.
Overload Rounds: This mod is usable only on Auto Rifles and Submachine Guns. Uninterrupted fire grants bullets that cause disruption, delaying ability energy regeneration and lowering combatant damage output. Strong against Overlord Champions.
Anti-Barrier Hand Cannon: Shield-piercing rounds designed to bypass combatant defenses. Strong against Barrier Champions.
advertising
Fifth Row
Heavy Finisher: Finishers grant Heavy Ammo. Requires one-half of your Super energy.
Oppressive Darkness: Causing damage with a Void grenade adds a weaken effect to enemies.
Arc Battery: Grants overshield and reduced cool down during activation for all Arc class abilities.
Thunder Coil: Grants bonus damage for all Arc melee abilities and refunds Super energy on finisher final blows.
advertising
On the Inside Xbox stream at Gamescom, Bungie revealed that the Heavy Finisher perk mentioned above will drop Heavy ammo for a player's entire fireteam upon execution of a finishing move. The downside, however, is that it will cost half of a player's super energy bar. There is obviously a strong focus on mods that affect the new finisher moves that are coming to the game in Shadowkeep. But that may not always be the case for future Seasonal Artifacts.
advertising
As mentioned previously by Bungie, each season will have its own Artifact with its own set of unlockable perks. Past Seasonal Artifacts and their mods will expire at the end of a season, which will also allow Bungie the flexibility to add or remove more mods and perks to the Artifact with each season.
RELATED: New Destiny 2: Shadowkeep Hunter Exotic Revealed
Going a bit deeper on Anti-Barrier and Overload Rounds in the Seasonal Artifact's second row, there will now be icons located next to each weapon in the UI to designate if it has either of these rounds and the effect they can have on enemies. These can be seen in the screenshot below as the triangle next to the Auto Rifle and the square next to the hand cannon. While these damage effects may not only be connected to the Seasonal Artifact, this is the first time they have been shown.
advertising
The Seasonal Artifact with its mods and these new Anti-Barrier and Overload mechanics look to deepen the RPG side of the game, which hardcore fans who have been hoping for a deeper experience beyond the action game of Destiny 2 will surely be happy to see.
There are still many questions yet to answer about Seasonal Mods and what other perks are within the first Artifact for Season of the Undying, but from what has been revealed so far, it looks like a promising new pursuit coming to Destiny 2 this fall.
advertising
Destiny 2: Shadowkeep releases October 1, 2019 for PC, PS4, and Xbox One, with a Stadia version also in development.
MORE: Destiny 2 Reveals New Nightmare Hunt Activity With Multiple Difficulties
Source: Destiny The Game Reddit
New Destiny 2: Shadowkeep Titan Exotic Armor Piece Revealed
Share Tweet Email Copy Link Copied
---
Company: gamerant, Activity: gamerant, Date: 2019-08-20  Authors: ramon hara, derek nichols, joshua duckworth, jesse d morgan
Keywords: news, gamerant, companies, mod, game, shadowkeep, players, far, artifact, rounds, seasonal, season, mods, revealed, perks, destiny
---
Closed Beta Discussion

Use this forum to talk about games currently in closed beta. Please restrict on discussing confidential information about a game that you are not allowed to talk about if you are participating in its closed beta testing.

45